Water Meter & Pressure Gauges
Water Meter, Pressure gauges, fixtures and fittings.
We offer a rwide range of Water meters for irrigation and pumping systems.
With or without pulse, regulated, diode and so on.
Please call today to speak with out technical support.
If you have any questions, or need to spec up the correct pump for your application, we can help.
Please contact one of our Technical Sales team.
We Welcome you questions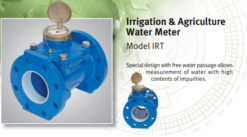 ARAD Irrigation and Agriculture Water Meter. Features: • Negligible loss of head • Simple maintenance • Field replaceable measuring unit • Hermetically sealed register with glass lens • Bearings are constantly flushed during operation to eliminate deposit of solids • Optional electrical output: EV (Volume) or EF (Rate of Flow) • Compatible with Dialog® automatic [...]