Before we visit a store directly to buy the irrigation supplies, let us be sure that we are aware of the types and systems that are used for it.
The system of measured amounts to water the plants, fields at the required intervals is known as irrigation. It is a prime feature of agriculture for over 5,000 years and is the main product of many cultures. If we go back into History, irrigation was the basis of societies and different economies across the globe ranging from Asia to the United States.
Irrigation Types and system:
 Surface Irrigation: is the oldest form of irrigation and is in use for thousands of years. To wet the surface and to penetrate the soil, water moves across the surface of an agricultural land
Micro-irrigation: Water is distributed under low pressure through a network of pipes. It is sometimes called trickle, localized or low volume irrigation.
Drip Irrigation: The water drips at the precise position of the roots in this system.  It is also known as the most water conscious system
Sprinkler Irrigation: water is dispersed through pipes to one or more central locations within the fields and distributed through high-pressure sprinklers or guns. Also known as overhead irrigation where water is sprayed like rain on the soil or crop.
Now you know which equipment should be bought according to your needs through these examples. Whether you are planning to buy a complete kit of irrigation or looking to buy an individual item you know how to choose.
Na
an Dan: Micro Sprinkler 7110 Inverted – 3/8″ ww – 360°
For irrigation, circulation and micro-climate (Horticulture and viticulture, Orchards, Greenhouses and nurseries, Landscapes) this equipment would be a valuable addition to the recent supplies you have bought for irrigation. Available in £1.25
Hydro S: Drip Tape – 20cm Spacing 1LPH 16mmx 2200mtrs
This technically advanced maze enables the accurate and consistent water distribution whilst minimizing the potential clogging. Available in £166.39 where the dripper provides excellent anti-syphon properties.
NaanDanJain: Turbo Hammer 501 U Complete 2.0mm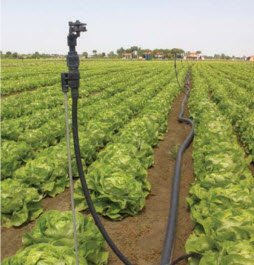 For vegetables, greenhouses, residential and landscaping, this Turbo hammer has the functionality of excellent water distribution. Available in £7.50
is working towards all kinds of irrigation supplies and services, stainless steel pipes, garden irrigation systems, water filtration systems in the UK, hence working closely with the recognized brands and distributor. Installing our systems and using its controllers are efficient and user-friendly.  If you are considering buying a wide range of durable and reliable irrigation supplies, contact our technical team and they will assist you accordingly.
With 25 years of Technical experience, our highly efficient and experienced Team is available to resolve all kinds of installation of the irrigation supplies. You can contact us from 8 am to 8 pm, Monday through Saturday to book an appointment with our expert. Our highly competent Team and Friendly Technical advisor will serve you till you are satisfied.