Polyvinyl chloride known as PVC is used to make drain, waste and vent fittings. PVC is one of the thermoplastic materials. It is frequently specified for a variety of products used in the pipe and fittings industry. Therefore its importance in the irrigation, farm fields, livestock and gardening cannot be ignored.
When we talk about PVC Adaptor socket or spigots, it is good to know the end types of 'spigot' and 'socket'. PVC fittings may either have socket or spigot end connections. Sockets and spigots are both slip fitting end types, the term "slip" usually refers to the sockets.  Spigot end is equal of a male end, and a socket end is equal of a female end. A spigot end fits into a socket end. PVC Fittings have both connections to connect with either PVC pipe or another PVC Fitting.
In the lowest range of £0.78 – £10.14, Imperial PVC Adaptor Socket – Solvent Socket x Male BSP Thread would be an important addition to the PVC equipment.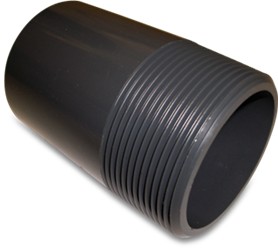 In just £1.30 – £7.23, Imperial PVC Adaptor Socket – Solvent Spigot x Male BSP Thread will be a valuable addition in your equipment's inventory.
It quickly removes the excess glue with cleaner and rag, respect drying times. A small and consistent ring of glue will be visible on the outside of the pipe and fitting joint. It is important to assemble the joint immediately in a single flow and in an even movement. Do not turn and twist the fitting on.
  is working towards all kind of PVC Adaptor Socket, irrigation services, stainless steel pipes, garden irrigation systems, water filtration systems in the UK, hence working closely with the recognized brands and distributor. Installing our systems and using its controllers are efficient and user-friendly.  If you are considering purchasing a wide range of durable PVC Adaptors Socket, contact our technical team and they will assist you accordingly.
With 25 years of Technical experience, our highly efficient and experienced Team is available to install all kinds of PVC fittings. You can contact us from 8 am to 8 pm, Monday through Saturday and could book an appointment if you want to discuss your query with an expert. Our highly competent Team and Friendly Technical advisor will serve you till you are satisfied.